Your dog deserves not just a safe place to exist, but they also require a good deal of stimulation, both indoors and out, to remain healthy and active. And in the end – they'll live a longer life. Finally, your dog needs a comfortable place to rest in which it can feel safe and secure. That is where the indoor playpen comes in. And unlike a dog crate, a playpen provides more of an open-air atmosphere in which your dog can move and play. Buyers Guide says a pet playpen is indoors to keep your pet enclosed when you're away or enjoying guests' company while providing them with a space that's all their own.
According to Pet's Radar, depending on your pup's temperament, dog pens are often enjoyed by dogs of all sizes as it gives them a sense of familiarity and security (rather than being seen as a space of limitation). So, if you've never considered an indoor dog playpen for your furry friend, now might be a good time to give the issue some thought. If you're looking for dog pen indoor options, you'll want to know what to look for before purchasing, especially if you've never shopped for one before. It will save you a lot of time and money, keeping you from buying the wrong product, returning it, and starting again. Humans love our furbabies and want the best for them, so whether it's a small dog or a large dog, their health, happiness, and comfort should always come first.
Even if you have a job or some other priority that takes you away from home for long periods, Best Reviews says the best dog playpen you can invest in is one that provides plenty of space and room for food, water, blankets, and toys, so you know they have everything they need when you're away or otherwise occupied. Luckily, there are many different dog pen indoor options, each with unique characteristics, sizes, shapes, and more.
What Are the Benefits of a Puppy Playpen?
According to Purina, there are many benefits to having a puppy playpen. For starters, dog pens give pet owners peace of mind knowing where their dogs are and that they are secure and happy. Not just that, but they can control precisely what their pup plays with – keeping them from chewing on undesirable items that could hurt them or cause damage to your home. Plus, as we mentioned earlier, a dog pen provides your dog with a secure area where they take comfort in their surroundings. It is beneficial in the case of a puppy since they have boundless amounts of energy.
The American Kennel Club says with a comfy bed inside their pen. They'll be encouraged to rest when they need to. A playpen can additionally be helpful if your dog doesn't do well around company. So, if you like to have guests over to your home and would rather keep your pup calm, a playpen is suitable for you. Finally, with their food and water in place, they can enjoy the peace while eating rather than being disturbed.
What To Consider When Shopping For a Dog Indoor Playpen
So, what should one look for in an indoor dog pen? Are they all the same, or are there varying factors to consider? As it turns out, with so many dog pen options on the market, the look, size, construction, and intended purpose vary by product. To answer our earlier question: No, they're not all the same, by any means. And it would benefit anyone looking to buy one to identify what they're looking for in a dog pen and understand what your average one has to offer.
We understand shopping can be difficult, especially if you've never bought this particular product before. That's why we took the time to evaluate some common factors and popular products to determine what's what. Below, we take the time to explore not only what to watch for when looking for a puppy playpen, but we've also included our top 5 picks for the best indoor dog pens. So, here are the best indoor dog pens and what to watch without further adieu.
According to Rover, there are many factors to consider when looking for a dog pen. But, when you take the time to learn about these critical considerations, you can confidently pull the trigger on an indoor playpen your dog will love. Check out what to consider below.
Your Dog
Depending on your dog's attitude, age, and breed, an excellent indoor playpen could be an excellent option for your dog to rest and play comfortably. When searching for the best dog playpen for your pup, like a dog crate, they're going to feel most comfortable in a space filled with their favorite things. Consider what makes your dog feel happy and secure, and be sure that the playpen in question allows them to enjoy these things. Whether you're leaving them home alone, taking them camping or on vacation, or keeping them nearby without allowing them to roam, you can rest easy knowing they're still able to live their best life.
Size
Canine Journal says when it comes to the size of the dog playpen, you want to begin by focusing on the space it gives your dog. As a pet owner, it's essential to ensure you don't coop them up, as this harms their physical and mental health. For instance, if your canine is of a smaller variety like a French Bulldog or Chihuahua, a small crate is probably best. For larger dogs, a bigger indoor puppy playpen will be necessary.
Animal pens range in height, starting at around 12 inches for rodents and small dogs and going up to 40 inches for larger dogs; as a dog owner, you want to provide a roomy enclosure from which they can't escape. So, be sure you choose a puppy pen that doesn't allow them to jump out. Otherwise, your curious dog will likely roam where you don't want them. Also, in terms of size, be sure to evaluate the square footage of the playpen. Then, compare that to the area where you'd like to set it. In the end, the pen you want might be better suited for outdoor use.
Material
Many different materials craft pet playpens. So, when you decide on an indoor playpen for your dog, it's essential to consider what it's made from as it influences its portability, durability, and strength.
Metal and Wire
Commonly built like your typical dog crate, metal and wire playpens often have thick wires designed to create a stable and secure frame that keeps your dog comfortably contained. Due to their heavy construction, metal and wire indoor playpens are incredibly durable and long-lasting. Like other playpens, metal and wire pens can be collapsed and stored for future use. However, taking them down and putting them back up is quite time-consuming. Furthermore, they're pretty heavy, and while these types of pens are ideal for larger dogs, they're not the perfect choice if you plan on transporting them.
Heavy-Duty Plastic
Plastic playpens are a standard option. They offer many of the same characteristics at a lower price and have a considerably lightweight structure. Therefore, they're not only portable but easy to set up and transport as well. However, if you have a large dog, a plastic playpen might not be the best option as they are likely to break free if given the opportunity. A small dog, on the other hand, would do just fine.
Mesh and Fabric
Also called pop-up playpens, mesh and fabric options offer a softer space for your pet. It has pockets and various other compartments that make them excellent for outdoor use. One unique characteristic of the mesh and fabric pen is they're often attached to some flooring, and some even have a fabric roof for protection from undesirable weather such as sun, rain, and snow. In contrast, they're perfect for trips outdoors like camping or going to the beach. They're not ideal for dogs that are inclined to chew. Additionally, they aren't for larger dogs. While they could be suited for indoor use, other options might be better.
The Space in Your Home
If you're seeking a dog playpen for indoor use, you'll first want to evaluate how much space you have available in your home. After all, what good is a pen if it obstructs a walkway or living space? Additionally, you want to be sure it fits so that it's both stable and stationary. That way, you can feel confident knowing your dog is secure.
Top 5 Indoor Dog Pens
After carefully evaluating some of the best indoor playpens on the market, these five grabbed our attention as the more ideal selections. Read on to discover what they have to offer your pup.
MidWest Foldable Metal Dog Exercise Pen / Pet Playpen
Ranging in height from 24″-48″, the MidWest Foldable Metal Dog Exercise Pen black puppy playpen has many admirable features. Starting, it has a secure double latch step-through door for easy entry and security once your dog is inside. Each panel measures 24″ in width, and it provides 16 square feet of an enclosed area in its entirety. Furthermore, it has eight ground anchors should you opt for outdoor use. This indoor playpen is incredibly easy to set up and requires no tools. Finally, it has a durable black e-coat finish, providing long-lasting protection against rust and outdoor elements.
Due to its varying size, availability, and flexibility, this pet playpen is ideal for large and small dogs, puppies, and older dogs. And with its generous 16-square-foot area, you can feel good about leaving your dog inside with plenty of toys, blankets, food, and water. They will have room to rest, but they also have room to move around rather than being stuck to feel confined and restless.
Amazon Basics Foldable Metal Dog and Pet Exercise Playpen
The Amazon Basics Foldable Metal Dog and Pet Exercise Playpen range in size from XS to L, and you can choose to get a model with or without the door, depending on your preference or the size of the dog. This playpen is for dogs up to 16″ in height and is quite affordable at just $35 for the extra small model, . It's constructed of durable iron metal with a rust-resistant black finish and provides convenient step-through door access. Additionally, the door has two secure locking slide-bolt latches, so you never have to worry about your dog escaping.
In terms of setup, this indoor dog playpen sets up in just seconds – unfold it, set its shape, and connect it. You don't need tools or complicated instructions. Also, it folds flat when not in use, so you can easily transport or store it as required. It comes with eight ground anchors for outdoor use, much like the previous selection. The structure comprises eight panels, each measuring 24×24″, ultimately creating a 16-square-foot enclosure. The panels get bigger accordingly if you opt for one of the larger dog pens. With fast shipping and an affordable price tag, this is a solid option for dogs of all sizes.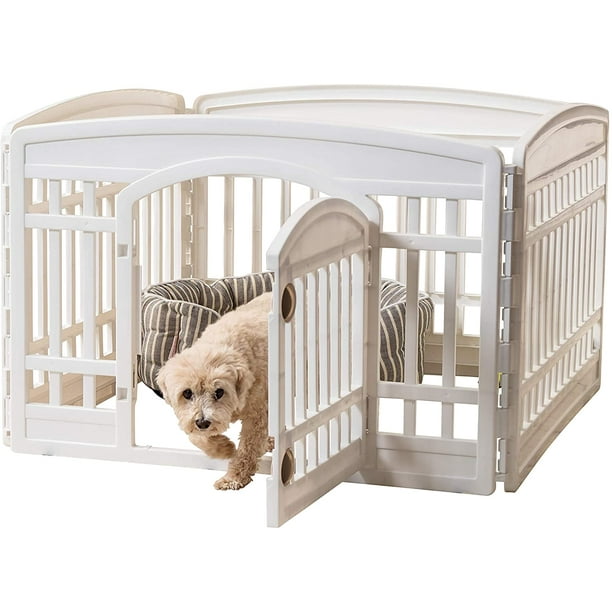 IRIS USA Dog Playpen
The IRIS pet playpen is one of the more unique selections on our list for several reasons. For starters, it's constructed of highly durable molded plastic. Ideal for all life stages, this indoor dog playpen is available in 24″ or 34″ in height, making it the ideal selection for smaller dogs. Another unique aspect of this pen is you can purchase additional panels if you'd like to increase its size. With eight square feet of the dog play area, this isn't a pen in which you'd want to leave your pup for very long unless you choose to go the additional panel route.
This indoor dog playpen is not for outdoor use, but it provides a high-security level with built-in locks on the door that you twist to open. And in terms of assembly, the panels snap together easily to keep your pet inside. If you have a home with wood floors, this is an excellent selection as it features non-skid rubber feet to protect them against scratching and rubbing. Altogether, this is a solid choice for small and medium dogs, especially if you plan on collapsing and transporting it.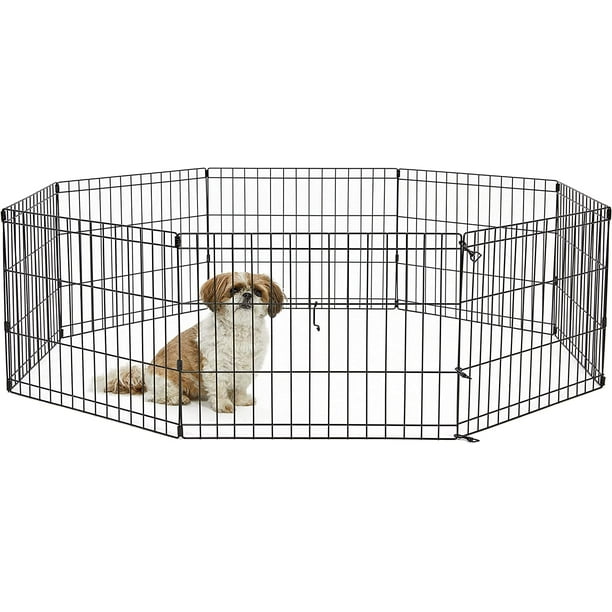 New World Pet Products Foldable Metal Exercise Pen & Pet Playpen
The New World Pet Products Foldable Metal Exercise Pen and Pet Playpen features eight panels and creates 16 square feet of area for your dog. Perfect for outdoor and indoor use, the metal is coated with a rust-resistant e-coat to protect it from the elements. It's easy to set up and requires no tools or complicated instructions – unfold it and configure it accordingly in either a round or square shape. Like the other metal dog pens on this list, this one also collapses and folds for easy storage. However, it may be a bit too heavy for transport.
Ideal for dogs up to 20″ tall, one unique feature is that you can easily connect this exercise pen to a dog crate to create an extended space. And whether you're seeking a puppy playpen for training or an exercise area for small animals like rabbits, ducks, or something similar, this is a solid selection for any animal owner, especially when considering its flexibility and adaptability. Although, it's not the ideal selection for larger dogs who might be able to jump the 18″ height.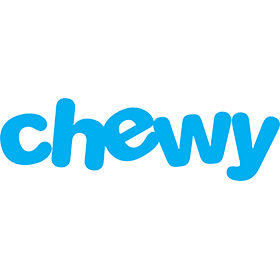 North States Mypet Petyard Passage
The North States Mypet Petyard Passage dog kennel pen is another unique selection as it's similar to the metal ones listed, but it's durable plastic. This pen features eight panels and a lockable door, and a small swinging pet door that's ideal for allowing entry and exit. However, the door also locks, should you prefer to keep your furry friend contained. Measuring 26″ tall, this is one of the few on this list that works for keeping both small and large dogs inside, providing a whopping 34.4 square feet of space. Wow!
If you have a smaller dog and wish to create a cozier space, you can easily remove two panels at a time – perfect for training sessions or nap time. Also, if you have wood floors, this is another option with skid-resistant pads to prevent any scratching or rubbing damage to your floors. It also helps to keep the pen in one place. Finally, this might be the most portable option out of the five, with foldable panels and an easy-to-carry strap. It is easy to carry, lightweight, and easy to store.