Dog bandanas are a fashion fad that have been around for a long time. They come in various shapes and styles, with some more suited for outdoor hikes and others for special occasions such as birthdays or Christmas. An eye-catching bandana is not only a great dog gift, but it also serves other purposes. Dog bandanas are ideal for hiking, everyday walks, parties, birthdays, photoshoots, and vacation trips.
Even the most basic dog accessories, such as a bandana, may have an influence on how your dog appears. If your pup adores birthday parties and hiking as much as you do, you'll cherish these lovely dog accessories. However, finding the best dog bandana can be difficult at times, this guide will help you out.
What Are Bandanas?
A bandana, often spelled as a bandana, is a big, generally colorful square piece of cotton fabric that your dog may wear. Bandanas are traditionally wrapped around the neck or the head for protection or appeal. However, dogs may now wear bandanas for several reasons, such as keeping the sun off your dog on your next long walk or wearing it as an accessory on a special event, such as your dog's birthday, or on a holiday trip. In addition, dog owners use various colored dog bandanas to visually indicate how their pets may interact with other dogs and humans. For example, it can be a signal of a potential behavioral condition.
Dogs also wear bandanas to relieve anxiety, prevent pests, and as fashion accessories. Bandanas may also give warmth, cold, and relaxing benefits and notify other dog owners of important information. For instance, a red bandana might signal 'do not approach', a white bandana could be a sign of deafness or blindness. Bandanas are also useful for making a terrifying dog appear less scary by covering it with something amusing.
Why Should Your Dog Wear a Bandana?
Bandana Looks Trendy and Stylish
Yes, dog bandanas may be worn as a fashion trend. It may make your dog seem more friendly and appealing to others around you.
Some individuals are scared of dogs, they might be afraid if how they appear to be, or it might be just a phobia. Dog bandanas can make your dog look charming and less scary for people.
Late Night Safety
A dog bandana can also serve as a warning to drivers and passersby's during late hours. Night drivers will notice your little pooch if he wears a brightly colored or reflective dog bandana. Additionally, you can also write a contact number, sign, or address details on the pet bandana as a pet owner. This can be helpful if your dog gets lost.
Prevents Parasites
As a pet owner, you want to keep your pets away from insects that may trouble them in the future. Dog bandanas are an innovative means of repelling mosquitoes, fleas, bugs, and other troublesome parasites that afflict dogs. Make sure you buy an insect repellent low in DEET (Diethyltoluamide) and that your dog isn't allergic to.
Provides Optimum Warmth
Wrapping a bandana over the dog's neck adds a layer of warmth. Bandanas protect your dog's neck and chest region, which are important for cooling off. When it becomes too hot, dogs do not sweat as humans do. Instead, they start panting. Hence, bandanas help provide the optimum warmth for your four-legged pups.
Hiking
Hiking with your best pet is one of the finest experiences, but you'll need suitable dog hiking gear. If you want to go on an outdoor trip with your dog, you need to think about the weather and how to keep your dog safe from external elements such as sunlight and insects. Look for tough multicolored bandana patterns to complement your dog's hiking gear if you have an outdoor adventure canine. Bandanas may shield your dog from sunburn and make your pet appear good. Sunburn is more common in dogs with white or light-colored coats, for example, Bolognese and White Terrier.
Prevents Skin Cancer
Dogs have a habit of licking the sunscreen after it is applied. You'll need something that won't harm your dog if he ingests it. It is important that you choose a product that is both safe and non-toxic, while also being effective. Sunscreen does not have to include harmful synthetic or hazardous ingredients, but many do. Hence, this habit can often lead to harmful consequences like skin cancers.
Short-coated dogs like sunbathing while lying upside down in the sun are more likely to get skin cancer. A bandana is a fashionable way to block the sun's ultra-violet radiations.
Drool Control
Bandanas may also be used as drool bibs if you have a drooling breed like Bloodhound and Mastiff. You may choose a variety of bandanas to change up. To be long-lasting, drool bandanas should be composed of high-quality cotton yarn. They should also be simple to clean, soft, long-lasting, and reasonably priced. It's much comfier if you get adjustable bandanas that may be adjusted to fit your dog. High-quality dog bandanas are soft and comfortable, an ideal pick for your drooling breed.
Is a Dog Bandana Better Than a Ribbon?
Many dog owners simply tie a colored ribbon over their dog's leash to indicate the additional distance or care that should be used around their dog. The issue with a ribbon on the leash is that it might be hard for others to see. A dog bandana will attract attention much faster since it is human nature to stare straight at another person or animal's eyes and facial characteristics to immediately comprehend its mood.
The bandana color gives you all of the information you want and rapidly drives your attention to it, making a bandana a strong and useful tool for the pet owner.
Colored Dog Bandanas
Dog bandanas are often used in various colors for 'signaling' purposes. The color of your dog's bandana is typically a warning indication to other dog owners that your dog may have behavioral or health issues. This lets them know to be cautious around you, avoid you, or just stay cautious if the dog owner permits you.
The signals may include very frightened, deaf, under training, blind, or a service dog, among other things. This may seem to be many options, but just asking the owner from a safe distance will provide you with a clear response on whether and how to approach them.
Red Dog Bandana
A red signal usually indicates a warning or a sign not to approach. The bright color is intended to draw your attention to the fact that their dog is not always pleased with the interaction with other dogs or people and would prefer their own space. The owner has chosen this color for a purpose, and you should respect it and try your best not to create a problem.
Yellow Dog Bandana
The yellow bandana on a dog collar or leash indicates to other people that the dog requires some space and that you should approach with care. This is because the dog may not be suitable for children, may have health difficulties, and may suffer from fear or anxiety. Dogs wearing a yellow bandana are not always aggressive, but they need a bit of extra space.
Orange Dog Bandana
Dogs wearing an orange Bandana may be nice to people of all ages, including youngsters. They do not, however, appreciate having other dogs around them. Dogs that dislike other dogs may have had a traumatic experience with another dog in the past. They might also be afraid of the other dog or be too protective of their owners. They perceive other dogs to be a danger to their and their owners' safety. Some dogs regard it as a threat to their social status.
Growling, exposing their teeth, barking excessively, ears pointing forward, biting, and other behaviors indicate that your dog does not want other dogs near. If this symptom looks moderate, you should constantly strive to persuade your dog to be acquainted with other dogs. However, if this becomes very unmanageable or hazardous, you must seek immediate assistance from a dog behaviorist or veterinarian.
Blue Dog Bandana
A blue bandana around the dog's neck indicates that the dog is in training or is a working dog. Working dogs are well-trained canines that help humans with their various jobs. For example, guarding, fetching objects, rescuing, herding, and other tasks that need physical and mental training.
Green Dog Bandana
Dogs who wear green bandanas are friendly in nature. For a long time, they have been considered man's best dogs. The dog with the green dog bandana enjoys being petted and played with. They like entertaining anybody. They are also alert, lively, and inquisitive. They also like playing and frolicking with other dogs.
White Dog Bandana
Letting your dog wear a white dog bandana communicates to people that your dog has a hearing or sight impairment, or that they are completely blind or deaf. These conditions do not imply that your dog is unlovable or that they cannot be happy or interacted with. Remember that your dog still has a sense of smell, which he employs most of the time.
Letting your dog wear white dog bandanas will alert people to modify their behavior toward the dog rather than pushing them to conform to what they want the dog to perform.
Types of Bandanas
A dog scarf or bandana may come in different sizes and colors. They may include patterned bandanas, stripes bandanas, plain bandanas, and personalized bandanas. Following is the list of the best bandanas for dogs that you may choose from.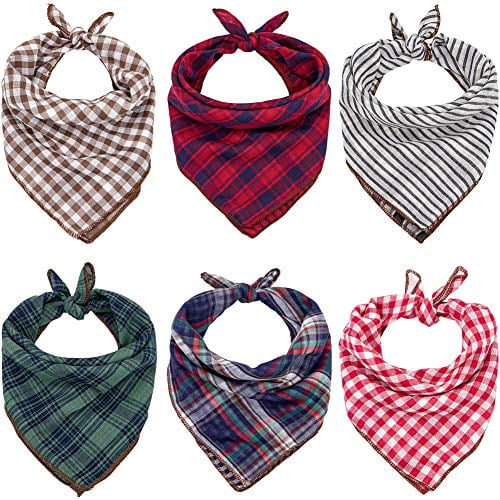 Remifa Dog Bandanas
The Remifa Dog Bandana is made of a durable colored cloth, making it the perfect bandana for dogs. The dual-layer makes it long-lasting, unlike other cheap quality bandanas with just one layer. The work line on this bandana sewing machine is nice and straight. Breathable fabric keeps your dog cool during hot summer days. It is easy to machine wash and dry.
Moreover, this dog bandana is 18 by 18 inches and maybe folded over numerous times. This dog bandana is best suited to small to medium-sized canines. Please measure your furry friend and give enough area to make a knot.
Additionally, this dog Bandana features a traditional plaid pattern that is original and never falls out of style. You will get 6 bandanas with a different print on each side for 12 styles. You will be able to change your dog's appearance every day for a week without repeating. This bandana is also suitable for use as a bridal dog clothes bandana or puppy bandana.
It's the best pick for everyday wear, photoshoots, Christmas, New Year, birthday celebrations, weddings, or just making your pet appear the nicest, trendiest, and cutest. It is a must-have gift to set your dog apart from the crowd by making them seem cooler, gorgeous, or more stylish.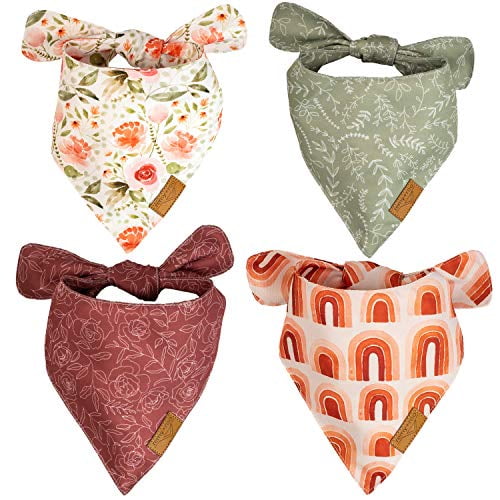 Remy+Roo Dog Bandanas
Remy+Roo Dog Bandana is a high-quality collection of handmade dog bandanas that offer a stylish alternative to more classic bandana designs. These include one-of-a-kind and stylish designs for a more modern appearance and varied patterns to convey your dog's personality. They also come in a four-pack, ensuring that your dog has a bandana for any occasion. This bandana pair comes in two sizes, allowing most dogs to wear it comfortably. They're also easier to tie and sit more naturally around the neck than other bandanas, reducing the possibility of the knot becoming loose or undone.
The bandana is curled to imitate your dog's natural neckline. It is intended to fit nicely while removing bulk, creases, and superfluous fabric. Remy+Roo bandanas are available in a variety of sizes. These dog bandanas are double-layered and made of a strong polyester fabric that will survive through all of your dog's activities.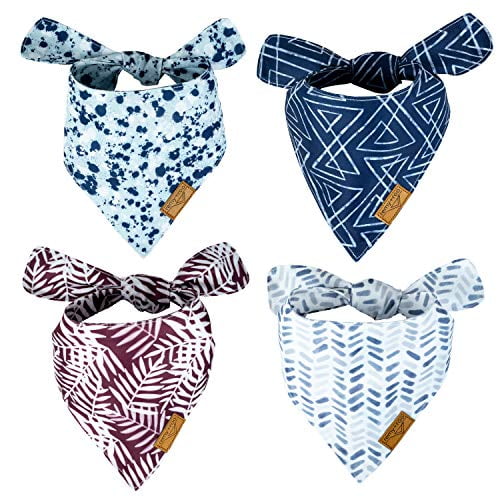 Remy+Roo Dog Bandanas Adjustable Fit
This 4-pack of Remy+Roo dog bandana is the ideal holiday present for the best pet in your life. Finally, this bandana is a four-pack of fashionable and long-lasting bandanas that won't break the budget. The fabric was chosen with active dogs in mind. Because of the excellent quality of cloth, these bandanas will endure longer, and your pet will be the prettiest one in the park. Remy+Roo bandanas feature a one-of-a-kind design that fits your dog's neckline snugly. They are intended to remove excess fabric and creases. This puppy bandana is ideal for growing dogs because of its adjustable strap. Simply tie the bandana tighter while your pet is younger and looser when fully grown. Remy+Roo bandanas are available in two sizes: small and large.
The patterns are gender neutral and will suit any breed. Remy+Roo bandanas are made of two layers of durable polyester fabric, allowing them to endure twice as long. In addition, the polyester fabric does not wrinkle and is more resistant to dirt and stains than other cotton bandanas.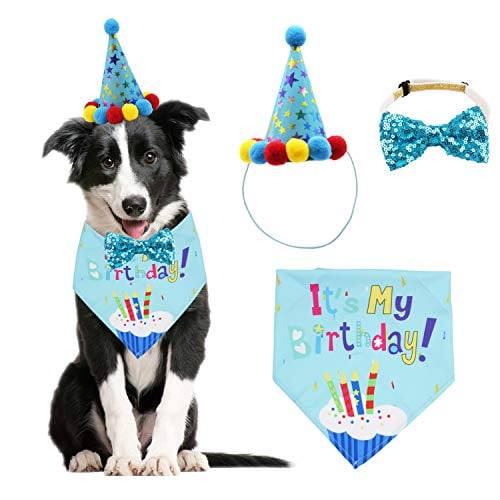 ADOGGYGO Dog Birthday Bandana Scarf
The versatile Dog Birthday Bandana is a traditional plaid pattern that never goes out of fashion. The front side is emblazoned with "happy birthday," making it suited for a birthday celebration. In contrast, the reverse side is simple and suitable for regular usage. The bandana is made of two soft and washable layers of cotton. The hat is composed of a pressure-resistant fabric that does not readily distort. A high-quality birthday suit for your pet can also be worn on other special occasions.
Bling-bling beautiful dog bow tie collar has an adjustable length from 7″ to 12.5″. The band is elastic and maybe stretched to 20″. It is suitable for a small to a medium-sized dog and might be too tight for a German Shepherd. They have added size X-Large based on consumer feedback. Size L is appropriate for small to medium dogs. The X-Large size is better suited to medium to large canines. You'll need to measure your dog's neck circumference and provide enough area to tie out.
Final Thoughts
Owning a dog brings a lot of joy into your life. However, this comes with the extra responsibility of caring for your four-legged buddy and ensuring that he is always comfortable. While dog owners take great care of their dog's food and outdoor activities, they often overlook a crucial accessory: a dog bandana. A dog bandana looks elegant and attractive on your dog. However, it also offers several health advantages that are difficult to overlook. For example, a dog bandana can prevent your dog from fleas, keep your dog warm or cold, send out warning signals, and helps catch the drool and fur of your dog.
You should buy the appropriate size bandana for your dog to make sure your puppy is comfortable while wearing it. Secondly, it is important that you pay close attention to the bandana's material. It should be silky and smooth on your furry friend's sensitive skin. Adding the additional item should not cause your dog any allergies or distress. Also, when shopping for a bandana, consider how easy it will be to clean. The material should not fade or wrinkle and should be machine washable.